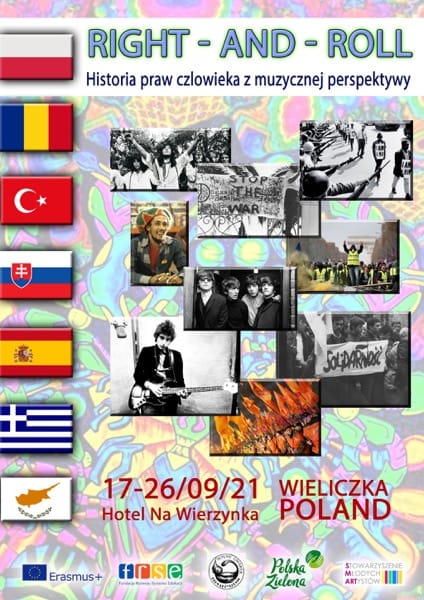 WIELICZKA, POLAND
Podczas warsztatów, uczestnicy przekazali sobie nawzajem wiedzę na temat praw człowieka oraz zagrożeń związanych ze zmianami klimatycznymi i brakiem dbałości o środowisko naturalne.
Ciekawe prezentacje i debaty przybliżyły problemy w krajach partnerskich, a wieczorki kulturowe dały możliwość wirtualnego dotknięcia kultur poszczególnych partnerów. Uczestnicy projektu przedyskutowali kwestie praw człowieka na przykładzie piosenek z ostatnich 50 lat przy pomocy tekstów z różnych muzycznych epok i krajów. Dzięki temu nie tylko poznali i zdefiniowali różne problemy związane z szeroko pojętymi prawami człowieka, ale także rozwinęli w sobie empatię i umiejętności interpersonalne.
Podczas przygotowań do przedstawienia prezentacji tematycznych, wieczorków kulturowych czy końcowego flash mob – młodzież rozbudziła swoją kreatywność, nauczyła się zasad improwizacji, podniosła poziom wiary we własne siły, przełamała strach przed publicznymi wystąpieniami i pogłębiła zdolności pracy w grupie międzynarodowej.
English version …
During the workshops, the participants shared their knowledge on human rights and the dangers of climate change, and the lack of care for the natural environment.
Interesting presentations and debates brought us closer to the problems in partner countries, and cultural evenings gave us the opportunity to virtually touch the cultures of individual partners. Project members discussed human rights issues with songs from the last 50 years using lyrics from different musical eras and countries. Thanks to this, they not only got to know and define various problems related to broadly understood human rights but also developed empathy and interpersonal skills.
Thanks to thematic presentations, cultural evenings, or the final flash mob – young people awakened their creativity, learned the rules of improvisation, raised their level of self-confidence, overcame the fear of public appearances, and deepened their ability to work in an international group.
Oh I say
Preacher man, don't tell me
Heaven is under the earth
I know you don't know
What life is really worth
It's not all that glitters is gold
'Alf the story has never been told
So now you see the light, eh
Stand up for your rights
(Peter Tosh / Bob Marley)
By using non-formal education tools and methods such as simulation, role-playing, plenary discussions, debates, and brainstorming – participants developed their talents and were shown how to use them to promote positive patterns, sustainability, empathy, tolerance, inclusion, or peace in the world.